Alice in Wonderland
Alice in Wonderland
Llandudno was the holiday destination resort of the real Alice in Wonderland, Alice Liddell, the girl who inspired Lewis Carroll and for whom he based his worldwide famous story on, Alice in Wonderland.
She first came to the resort in 1861 aged 8 and stayed at the Tudno Villa Apartments now, the St Tudno Hotel on Llandudno's North Shore.
Alice Liddell used to visit Llandudno and stay in her holiday home Penmorfa, with her family.
Their holiday home was built on Llandudno's West Shore and was later developed into a popular Hotel with its famous background.
Although it is said that Carroll didn't actually meet Alice Liddell in the town of Llandudno, it has never been proven. He did become a close friend of the family and it is believed by many that it was Alice's adventures whilst on holiday in Llandudno, later recounted to Lewis Carroll that influenced him when he first made up the story told Alice and her sisters, whilst on a rowing trip. Lewis Carroll originally titled the story "Alice's adventures underground" which he later published into the all-time favourite classic "Alice in Wonderland" It is also said, that Llandudno is also part of the inspiration behind the sequel " "Through the Looking glass"
Did you know?
The Walrus and the Carpenter, who both feature in the book Through the Looking glass are two big rocks that sit prominently on Llandudno's West Shore!
The town of Llandudno has always been proud of their Wonderland connection to the famous children's stories and of course, the young girl who inspired them, Alice Liddell.
You can now learn all about these connections by walking the new Alice Town Trails with the Mobile App!
Explore the Victorian Seaside town of Llandudno, rated the best seaside town in the UK with the Alice in Wonderland trails. With the help of a mobile app, you can explore the special Alice in Wonderland features across the town, following one of the mobile app assisted trails.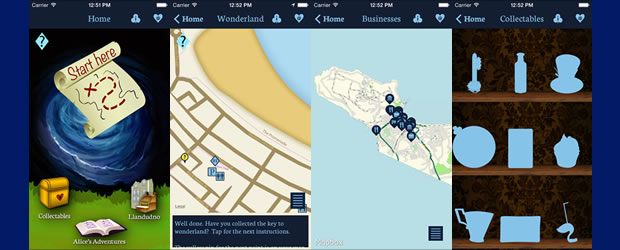 The trails start at the Tourist Information Centre right opposite Marks and Spencer Store.
Visit www.alicetowntrails.co.uk for full details!
Don't be late for this very important date!